The 2021 Subaru Love Promise Community Commitment Award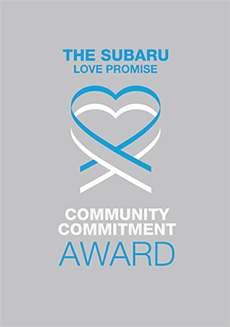 We've been nationally recognized for our dedication to our community and the Subaru Love Promise.
We're honored to receive the 2021 Subaru Love Promise Community Commitment Award. This award nationally recognizes Subaru retailers who are making the world a better place while demonstrating an outstanding commitment to supporting passions and causes in local communities. These efforts are focused in important areas such as the environment, community, health, education, and pets.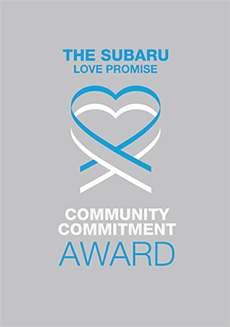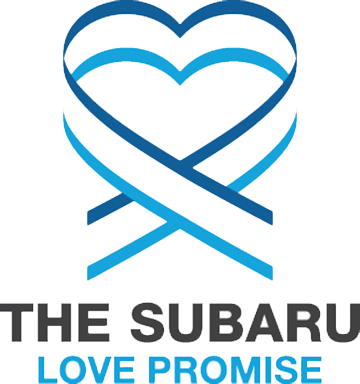 What is the Subaru Love Promise?
Subaru and our retailers believe in making the world a better place and the Subaru Love Promise is our vision of respecting all people. This is our commitment to show love and respect to our customers and to work to make a positive impact in the world.
How is Ed Reilly Subaru dedicated locally to the Love Promise?
We believe in being more than a Subaru retailer. We believe in being part of our community by setting an example and building lifelong relationships. We want to ensure the love is not only felt by our customers, but by all. Not just because it's good for business, but because it's the right thing to do.
Love Promise Stories from Ed Reilly Subaru
Subaru and Ed Reilly Subaru believe in making a positive impact on the communities in which we live and work. We uphold that belief through our Love Promise Community Commitment. Every month, we select inspiring stories from customers and partners from around our area who strive to support our collective commitment and feature them here
Subaru Loves Pets - Shannon C
During the month of October Pope Memorial SPCA partnered with Ed Reilly Subaru of Concord, NH for the Subaru Loves Pets event. This month long event helped to promote adoptions for homeless pets at our shelter. Once such adoption was of a kitten named Guston. His family has since followed up with us and here is what they have to say: "Thank you so much for adopting this adorable kitty to us. We named him Elon Space Magic. He fits in great with our family and is getting along well with my other cats. Elon follows my 10-year-old around the house and loves to run and put on a show for my almost 2-year-old son. My baby will just laugh and scream with excitement." Thank you to Ed Reilly Subaru for helping us find a home for Guston, now Elon Space Magic, and bringing love and laughter to this family!
---
Keeping the Concord Community Warm - Julie G
Ed Reilly Subaru, as part of Subaru Loves To Help, donated 80 blankets to those in need in the Concord, NH community through the Concord Coalition to End Homelessness. As we enter into the coldest months of the year in New England, we must consider those that need our help that do not have access to shelter and warmth. We remain committed to engaging and supporting local charities in Concord to support our vibrant community and give back. Pictured is Ed Reilly Subaru's Kellie Carter with Concord Coalition to End Homelessness' Julie Green, Clinical Director of Case Management. #SubaruLovePromise
---
SPCA Feed the Need Drive at Ed Reilly Subaru - Shannon C
On October 24, 2020, Ed Reilly Subaru hosted a Feed the Need Drive in conjunction with their Subaru Loves Pets partner, Pope Memorial SPCA in Concord, NH. Members of the community, customers, and employees delivered much needed pet supplies to donate ranging from food to blankets and cleaning supplies. We were fortunate enough to have a wife of one of our employees make homemade beds for puppies at the shelter. Thank you to Dan and Rene for donating your time and supplies to make these comfy beds for our furry friends while they await finding a new home. As part of Subaru Loves Pets month in October, Ed Reilly Subaru helped promote pets up for adoption at Pope Memorial and we are excited to announce that 73 pets found new homes during the month! We love to support Pope Memorial and connect the community with a great organization supporting pets in need and looking for new long-term homes.
---
Ed Reilly Subaru Shares Love with Concord Hospital - Concord H
Ed Reilly Subaru sponsored Concord Hospital's Annual Challenge Scramble Golf Tournament. The funds raised through this tournament are intended to support the Hospital's Scholarship Fund to "inspire and enable students to pursue careers in the nursing and allied health care professions to enrich their lives while ensuring the continued availability of quality health care to the greater Concord community." Ed Reilly Subaru donated an Outback if one lucky winner should sink a hole in one, or win from the raffle. The Outback was donated as part of larger community outreach and Subaru of America's Love Promise program, which supports local communities throughout the year. We are proud to sponsor Concord Hospital's initiatives to provide scholarships to future generations of leading health care professionals.
---
Students, STEM, Summer & (Ed Reilly) Subaru!!!! - Jane D
Last spring we received word that Ed Reilly Subaru wanted to partner with us to provide amazing science books to our students. This gift allowed us to select titles that supported our own science curriculum and the needs of our school. The books are beyond amazing! Kent Melchior, from Ed Reilly Subaru, presented the books to our entire school community during our October All School Meeting. Kent had some inspiring words for our kids and left us with over 150 books! These books will be used in several ways. First - copies were added to our school library so any student with an interest in that topic will be able to check it out to read and enjoy. Teachers at Broken Ground School will be able to use the multiple copies with reading groups to enhance and support their grade-level science curriculum. We will also be incorporating the books into our Summer Literacy Camp called Science & Fiction. We will be creating STEM lessons to go along with the books we received as part of our summer programming. We all know how important it is for students to continue the work they do through the summer - especially if it's something you struggle with! By incorporating STEM into our summer literacy camp, we keep students motivated and engaged. We are so excited to share these titles with our campers! We can't thank Ed Reilly Subaru enough for caring about our community and stepping up to help us continue to inspire our students. Our work is made easier because of your generous gift!
---
Ed Reilly Subaru Loves Learning - Ed Reilly S
On October 16th employees of Ed Reilly Subaru donated 150 award winning science books to the Broken Ground School in Concord, NH. A presentation was made before third, fourth, and fifth grade students and their teachers. Kent Melchior, general manager of Ed Reilly Subaru gave an uplifting presentation during the assembly. He spoke of the need for all students to work together in their goal of attaining a good education. He emphasized the need for a team spirit attitude. The employees of Ed Reilly Subaru are honored to donate these educational books to the students of Broken Ground School. We also acknowledge the excellent job of educating these students that the fine teachers and administrators continue to accomplish.
---
Subaru Loves to Care Delivery - Laura W
Today Ed Reilly Subaru made a special delivery to the Payson Center for Cancer Care at Concord Hospital. The Subaru staff including Kent Melchior, General Manager delivered warm blankets and cards of hope for cancer patients while undergoing treatment. The blankets not only give warmth while in cold treatment rooms but they also let patients know that people in the local community are thinking of them. The cards of hope bring caring words of encouragement which goes a long way to lift spirits. The Subaru Loves to Care Program partners with the Leukemia & Lymphoma Society and local hospital and treatment centers. We are so grateful for Ed Reilly Subaru's generosity and we look forward to partnering with them in the future. Thank you so much!
---
ED REILLY SUBARU OPENS THERE ARMS WITH LOVE - The Friendly K
Subaru is dedicated to making the world a better place to live in. They've always been good about giving money back to the community they are in. Several programs are run every year which support causes that are near and dear to the values of the Subaru brand. The Subaru Love Promise is one of these well respected programs. Since 2008, this program has donated more than $100 million to charity, with customers choosing between 4 national charities and over 660 local organizations. This year's event ran from November 15, 2018 through January 2, 2019 and each customer who purchased or leased a new Subaru (2019) could designate one of the selected charities to receive a $250.00 donation. The Friendly Kitchen right here in Concord, NH was Ed Reilly Subaru's selected charity of choice for the sixth year in a row. We enjoy working with them and appreciate how dedicated they are to providing meals for the hungry in a place that is non-discriminatory, caring, welcoming, and warm. Currently, the organization takes food donations from individuals, restaurants, grocery stores, and many service organizations. Financial support comes from individuals, faith communities, trusts, and businesses. Their story started in 1980 and continues today with the help of dedicated volunteers who are relied upon heavily. If you would like to help this group help those that are in need, please give them a call today! They can be reached at (603) 224-7678 or check them out at their website: http://www.thefriendlykitchen.org/
---
Feeding the Hungry - Valerie G
The Friendly Kitchen is a 501c3 non-profit in our community whose mission is to provide a meal for the hungry in a warm and caring non-discriminating environment through the coordination of community volunteer resources. The Friendly Kitchen began its mission back in 1980 serving four people. The volunteers began serving three dinners per week in those early years. Now bring us to 2019, The Friendly Kitchen serves dinner 7 days per week, lunch 5 days per week, breakfast all year on Saturday and Sunday and breakfast Monday through Friday during December through March. This past year, the kitchen served over 50,000 meals. All of the preparation and serving of meals are done by numerous volunteers in our community. Hundreds of volunteers contribute over 9500 hours of volunteer time. The mission to feed the hungry in our community could not be accomplished without the generous partnerships that have been built in our community such as Ed Reilly Subaru, Share the Love event. As reported by Feeding America 1 in 11 people struggle with hunger in New Hampshire and 1 in 9 children struggle with hunger. Through Feeding America's Map the Meal Gap in 2016, the reported that an average meal in New Hampshire costs $3.25 – the generosity of the donation received through the Share the Love Event allows The Friendly Kitchen to serve over 4400 meals. This is an extremely important partnership that allows The Friendly Kitchen to sustain their mission.
---
Caring for pets is the Subaru style! - Pope Memorial S
The Pope Memorial SPCA is dedicated to caring for abandoned and homeless pets, protecting and advocating for pets in need, and promoting the humane treatment of all animals. They envision our local communities as safe havens for animals, where a nurturing human-animal bond is created and animals are always treated with love, respect, and compassion. The SPCA is concerned with the animal's lifetime care by placing them in loving homes that have been vetted as a good fit. This goal is achieved by evaluating animals medically and behaviorally while providing all necessary veterinary care. Pope Memorial doesn't euthanize animals for non-medical reasons. Subaru loves animals and in fact, it's one of our brand pillars. According to the ASPCA®, each year approximately 6.5 million companion animals enter shelters. Whether our animals live in our homes, shelters, or in the wild, we are committed to keeping them all safe and healthy. Every October since 2015, through our Subaru Loves Pets initiative we collect new pet supplies to be donated to local animal organizations. Ed Reilly Subaru has built a great relationship with Pope Memorial SPCA and we're proud to help them every year. They care for over 1400 animals annually and also run a community pet pantry. Each month there is roughly 80 families that rely on the pantry to keep their pets fed. This year we filled up one of the all-new 2019 Ascents and drove over with all of our supplies. We were greeted by their friendly staff as well as Theo the hound mix! We look forward to next year's drive!
---