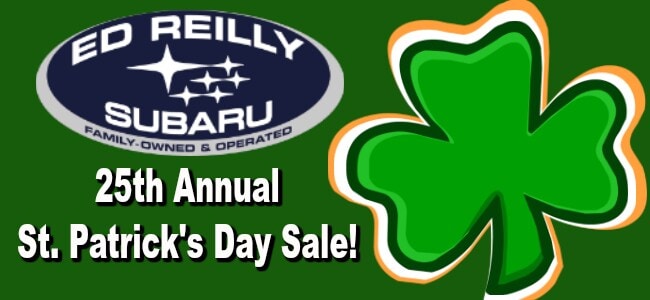 Join us for our 25th Annual St. Patrick's Day Sale! We're celebrating all March long at Ed Reilly Subaru.
This year, our sale features Special Pricing on all 2019 Subarus thru the month of March. Come in and test drive any new vehicle and be entered to win the Ed Reilly Subaru Pot of Gold which is valued at $500.00 (1) Will you have the "Luck of the Irish" and be the one who takes home the gold? (3)
Below are some of our St. Patrick's specials that we're really excited about: (4)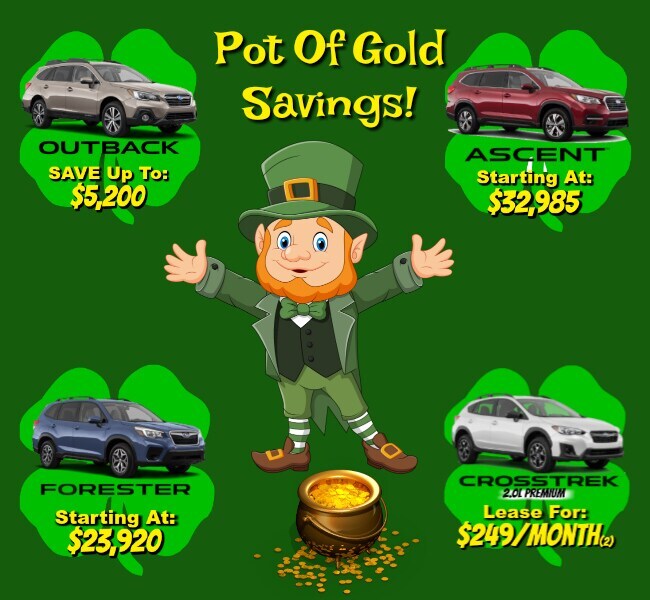 Thank you for your loyalty and continued business.
We look forward to helping get you into a new Subaru during the month of March. See you soon!
Tom Trites
General Sales Manager
Ed Reilly Subaru
(1) "Pot of Gold" is valued at $500.00 and is comprised of $250.00 in cash and $250.00 in Genuine Subaru Accessories.
(2) Crosstrek lease is for Stk #19329 (or comparable vehicle), 36 month lease, 12k miles per year, $2,000.00 cash or trade on delivery.  
(3) "Pot of Gold" prize to be drawn on Monday, April 1st 2019, and winner will be notified via telephone.
(4) Must road test a 2019 vehicle to enter the "Pot of Gold" contest.