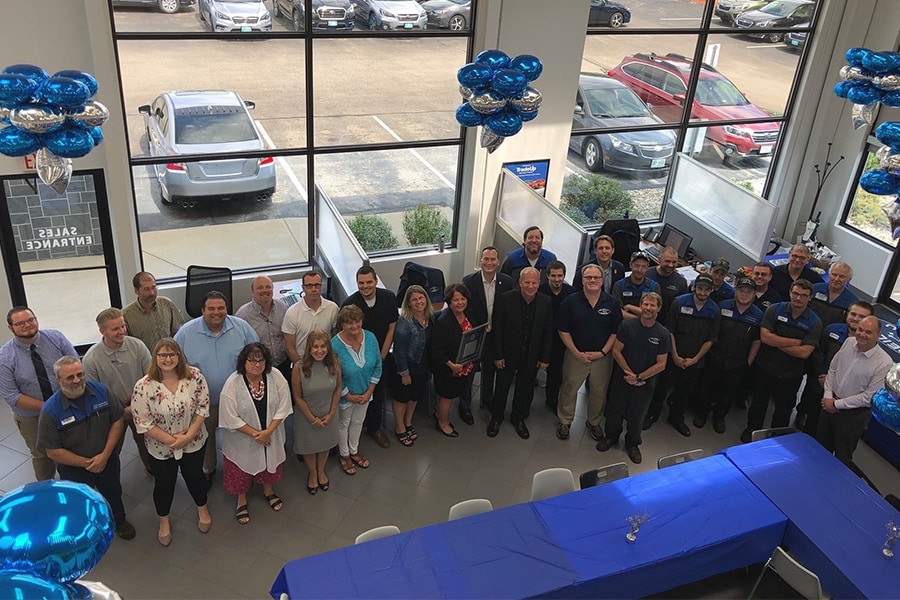 We Are Hiring at Ed Reilly Subaru!
Interested in Joining the Ed Reilly Subaru Family? 
Even though the world "stopped" in 2020, the automobile industry, and especially Subaru, have not slowed down! We are looking for a number of dedicated individuals to join a dynamic team to take us to the next level. Please see below for a list of open opportunities and application instructions. 
We are actively hiring for the following positions: 
Parts & Service Department Support (full time)
Parts Van & Customer Shuttle Driver (full or part time)
Business Development Consultant (full time) 
Business Development Manager (full time) 
Parts & Service Department Support: 
This key utility player helps the Parts Department run smoothly and also keep our customers happy! Key duties vary day to day, so you will never expect the same thing twice. Primary focus includes giving shuttle rides to customers as well as delivering and picking up parts in the Concord, NH area. A successful candidate for this position has a "one team" mentality where no task is too small or too large to tackle and has a friendly demeanor, as interactions with customers is required for rides and Parts Department counter support. 
A valid driver's license and clean driving record is a must.
Please note that this job requires the person to be on their feet most of the day, moving and lifting items that can be heavy, driving different vehicles, and providing courtesy rides to customers.
If interested in applying or have any questions, please send your resume to plovejoy@edreillysubaru.com 
Parts Van and Customer Shuttle Driver (part time or full time): 

Driver's license & clean driving record are a MUST.
Responsibilities:
Provide shuttle rides to service customers during business hours
Maintain safety and security of all parts and vehicle
Deliver parts to customers on time with exceptional customer service
Have excellent record keeping skills of all transactions
Work as a team player to assist others in the dealership to make everything run smooth and provide optimal customer service
If interested in applying or have any questions, please send your resume to plovejoy@edreillysubaru.com 
Business Development Consultant or Manager (full time): 
Expectations:
Review and appropriately handle automotive Internet, Web, and phone leads
Analyze data sets to determine best approaches to customer responses and acquisition
Pull data reports and make conclusions to inform business decisions
Think creatively to grow lead volume
Answer customer calls and respond to customer emails accurately and quickly
Encourage customer to schedule appointments and visit us in person
Maintain customer database and document all customer interactions in online program
Qualifications of a Business Development Manager:
Minimum of 3 years working in a BDC required
Ability to communicate efficiently and effectively with the executive management team
Ability to motivate and build a team and train others 
Disciplined self-starter
Task and process-oriented
Ability to work independently
Proven track record
Excellent written and verbal communication skills
Proficient in navigating computer and online IT programs
Familiarity with social media platforms and building social media calendars is a plus
If interested in applying to the BDC or BDM role or any questions, please send your resume to kreilly@edreillysubaru.com 
Benefits Available
:
Full benefits package including health, vision, dental, and life insurance

Retirement 401(K) with employer matching

Paid time off - vacation, holidays, personal

Professional and fun work environment

Continuous personalized training as needed
Ed Reilly Subaru has been serving the Concord, New Hampshire and New England communities for over 25 years! Our team enjoys training programs, a fantastic culture and opportunities for advancement to help you grow both personally and professionally. If you enjoy a team environment and providing an extraordinary customer experience, then we might just be the place for you!
--------
Interested in a position that may not be open yet? If you would like to introduce yourself, please email Kaitlyn Reilly - KReilly@EdReillySubaru.com with your name, contact information, a couple sentences about yourself, and your resume and we will keep you in mind for future openings.