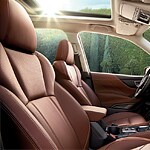 If you're on the market looking for a reliable, comfortable SUV, the Subaru Ascent needs to be on your list. One of the main reasons why the Subaru Ascent is so popular in this day and age is because of its many outstanding features.
The Subaru Ascent comes with a large, comfortable cabin. Indeed, the Subaru Ascent is the largest Subaru vehicle ever manufactured. The cabin seats up to eight and has the capacity for various different seating configurations. The Subaru Ascent also built to last. The sturdiest materials are used on the Subaru Ascent. 97 percent of Subaru vehicles sold in the past 10 years are still on the road.
More information about the Subaru Ascent and its features is available to you at Ed Reily Subaru, conveniently located in Concord, NH. You can take the Subaru Ascent on a test drive and see this SUV up close.