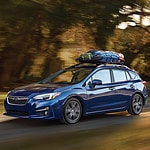 Although there are many capable SUVs on the market today, there are few that can stand out the way that the three-row Subaru Ascent can. The Subaru Ascent starts at $31,995 and is one of the most spacious SUVs you can find with its three-row seating system that allows seven to eight passengers at any given time.
The Subaru Ascent is not only great for families, but it does well on rough terrain as well. The Ascent comes with 8.7 inches of ground clearance, protecting your vehicle from damage in rough terrain. It also comes equipped with a standard X-MODE which is designed to optimize your all-wheel drive system to have maximum traction on slippery surfaces as well as control stability when descending on a hill.
If you are in Concord, NH and are interested to further explore the Subaru Ascent, then swing by Ed Reilly Subaru to receive a quick test drive.