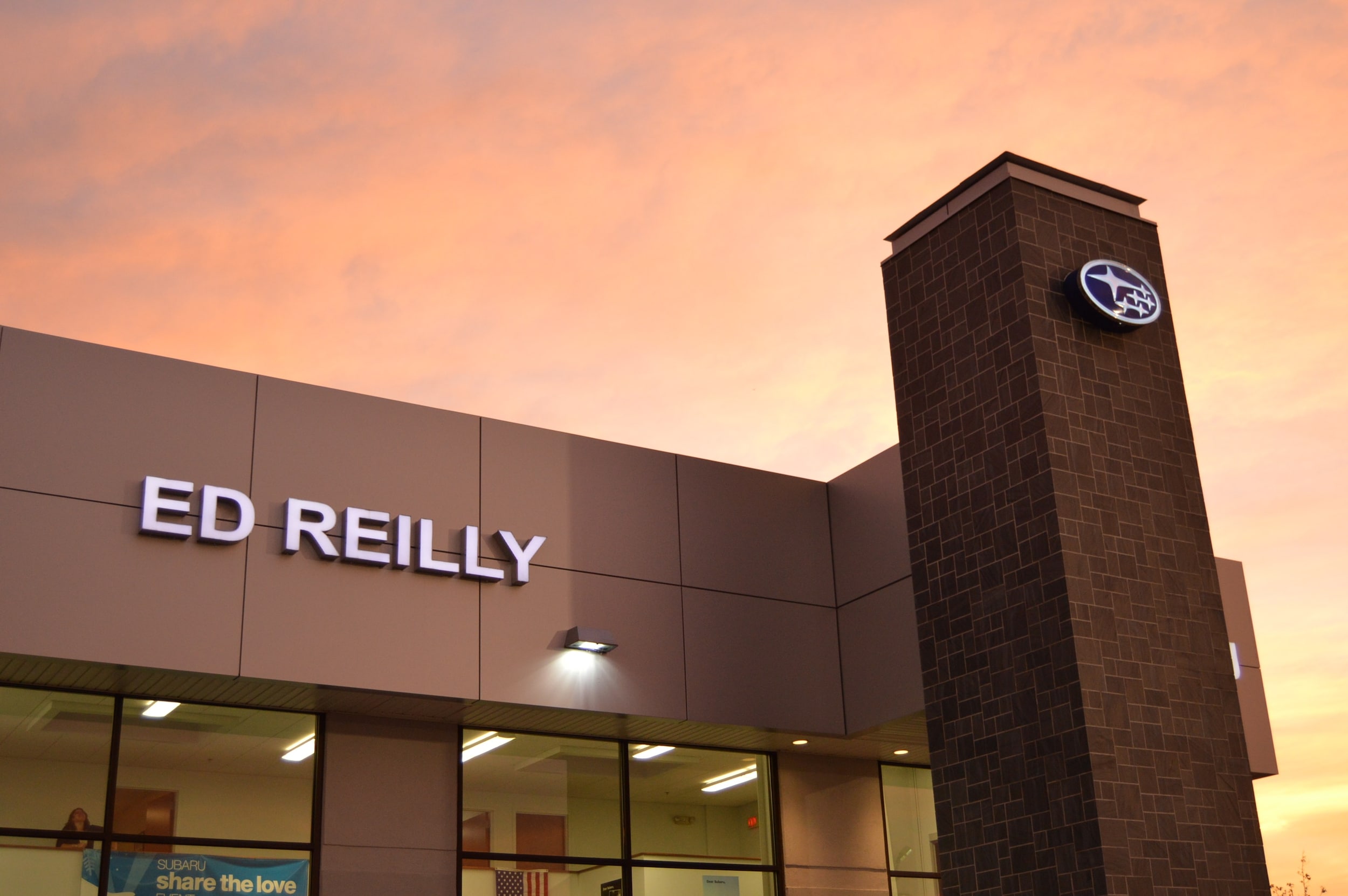 Welcome to the Concord Area's Oldest
Exclusive Subaru Dealership

Why purchase and service your New or Certified Pre-Owned Subaru from the people at Ed Reilly Subaru?  Read on and find out!
Top Ten reasons to buy and service your New or Certified Pre-Owned Subaru from Ed Reilly Subaru in Concord NH:
10.)    
Price.
  At Ed Reilly Subaru in Concord we strive to provide or customers with the very best prices on our New Subaru Models.  If you find a New Hampshire Subaru dealer's price to be lower than ours in writing, we will BEAT that competitor's price by $200.00, while most importantly not compromising our personal service.  We want to make your new car buying experience as simple and hassle free as possible.  We believe  "The only deals we can't beat are the ones we don't see"!  Shop us last...bring us your best deal, and see how we do...we are the Subaru lowest price leader!
9.)    We're "Family Owned & Operated"
...an owner is involved in the daily operations..  Why is that important?  It means a low pressure atmosphere, where you're encouraged to ask questions, and can expect to receive honest, straight-forward answers.  We remember all our customers by name and have lifetime lasting relationships with many of our customers.
8.)    Experience.
  We've been serving New Hampshire Subaru owners since 1994.  Our Subaru Service Manager has been here for 18 years and we also have a Subaru Senior Master Technician, a Subaru Master Technician and Certified Subaru Technicians..  Our Subaru Parts Manager has been here for 6 years.  Need we say more?
7.)    We'll deliver your new Subaru to you.
  Think you're too far away to buy from us?  With our exclusive "Subaru White Glove Delivery Service", we will deliver your new or Certified Pre-Owned Subaru right to your door.

6.)    
Subaru is all we do.

  We've been an exclusive Subaru dealership serving Merrimack County, NH since 1994.  That means anyone you speak with at Ed Reilly Subaru is a Subaru Specialist!  We're minutes from Bow, Hooksett, Pembroke, Tilton, Hopkinton, Loudon, Epsom, Northfield, Belmont, Gilmanton, Laconia, Sanborton, Boscawen, Chichester, Gilford & Hillsborough County.
  Come view our selection of new and used cars for sale in Concord, only 15 minutes from Manchester! 
5.)    Customer Satisfaction.
  Our Customer Satisfaction Index scores are consistently higher than our local competition.  That's why the majority of our business is repeat & referral...our customers love us!  Whether you're buying a new or CPO Subaru, or need Subaru service or Subaru parts, you can be sure that you'll be treated right.
4.)    We don't play games.
  At Ed Reilly Subaru, we don't tack on phony charges.  Some of our competitors add on charges for things like "Dealer Prep", or charge extra for the use of service loaner cars.  Why would they do such a thing?  So they can sell the car for an artificially low price, then make up the difference with these phony fees and add-ons (it's sad, but true)!  If anyone tells you that you'd have to pay these phony add-ons wherever you go...DON'T BELIEVE THEM!  At Ed Reilly Subaru, the price we quote you is the price you're getting, and we provide our customers with free, current model year loaner cars when you need them!
3.)    Peace of Mind.
   Ed Reilly Peace of Mind Guarantee.  We are so committed with your satisfaction with you Pre-Owned automotive purchase that we will give you a full 30 day 1,000 mile powertrain warranty.  That's one more reason our customers are confident that when they refer their friends & family, they'll be treated right
. 
Keep in mind
,
any Ed Reilly Subaru customer who refers another customer that buys a car here has their choice of $50 dollars or $75 dollars in free service work.
2.)    Commitment.
  Ed Reilly Subaru is a 2015 & 2016 recipient of the prestigious Subaru Stellar Care Award, further demonstrating the fact that we take the satisfaction of our customers very seriously.  The funny thing is, we didn't have to change what we do to win this award...things that others consider "over and above" are considered "the right way to do it" here at Ed Reilly Subaru.
1.)    Benefits.
  Our commitment to your satisfaction doesn't end when you leave in your new (or new to you) Subaru.  We offer our customers amenities such as FREE, 2016 loaner cars when you need them,  Free NH State inspections for as long as you own the vehicle, we wash and vacuum your car for free with every service visit, and our exclusive Subaru Quick Service Center, which offers our customers the price and convenience of a "Quick Lube" facility for maintenance, with the quality of Genuine Subaru parts & workmanship by Subaru Specialists.
Still not convinced?  Come in and meet our staff...see for yourself what it means to be part of the Ed Reilly Subaru family!